Recreating crime scenes doesn't have to be expensive or take days to do.
Budgets at any police department are shrinking. Doing "more with less," is the new "normal," these days. Which is why we love CSI:360. It's affordable and we can keep our existing Canon camera investments.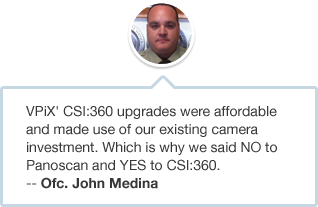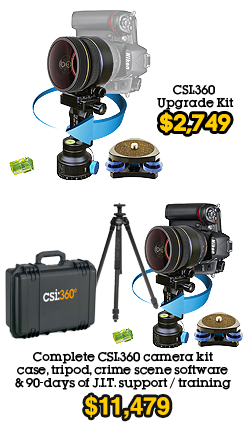 All prices are for GSA / Government and domestic U.S. only. Prices shown reflect "base model" systems. All orders will receive a custom quote.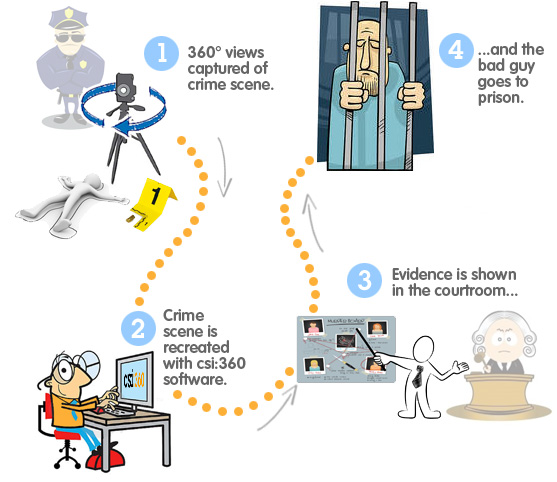 The FASTEST way to put the "bad guys," behind bars.
Recreating a crime scene with your existing resources and cameras can be done quickly and affordably with CSI:360.

STEP 1: You photograph the crime scene by capturing panoramic images. Each 360 view is captured in just (4) shots.

STEP 2: Log into your CSI:360 secure account and upload your stitched panoramas. Add digital crime scene markets, field notes, interactive hot spot arrows, Bing or Google GPS maps or floor plans.

STEP 3: The District Attorney presents the evidence in the court room. A guilty verdict is reached and the bad guy gets convicted.

STEP 4: Bad guy goes to prison.
Compare 360 Systems
CSI:360
Panoscan
Camera / Lens / Rotator Equipment
$11,479
$39,995
Camera Make / Model
Nikon's full-frame vs. Mamiya's medium format camera
Nikon
D610
Mamiya
645 format
Lens Range
Nikon D610 vs. Panoscan
Sigma
8mm f / 3.5
Lens range
24mm - 300mm
ISO Range
low to high
ISO
100 - 6400
ISO
200 - 3200
Fastest Shutter Speed
Nikon D610 vs. Panoscan
1/4000
second
1/3000
second
Slowest Shutter Speed
Nikon D610 vs. Panoscan
30
seconds
1/8th
second
WiFi Capable
Nikon D610 vs. Panoscan
YES
Eye-Fi Compatible
NO
USB Connection
Crime Scene Reconstruction Software
*
Multi-Floor Plans / Hotspots
Ideal for large buildings, projects

Private Tours / Password Protected
Lock up your tours over a public network

Field Notes / Information Boxes
Clickable icons to read notes, see additional photos

Navigation Arrows / Interactive Directionals
Click-able arrows to jump from one scene to another

HTML5 Virtual Tours Format
Viewable on iPhones, iPads and Android Tablets

360 Gyro Sensitivity
View changes as you move iPad or iPhone around

VPiX 2 Go Export Function
Secure export to CD, Jump Drive, laptop or anther server

Measurement Target / Distance Tools Built Into 360°'s
NEW: Smart 3D Targets allow accurate crime scene measurements up to 99.999%

Just In Time (J.I.T.) Training
Monday-Friday on-demand training available

CSI:360 Exports
Following the proper "chain of custody" best practices, you can export finished 360° crime scenes and archive them to USB, CD-ROM and other media.

CSI:360 is now worldwide
International Sales
CSI:360 sales and service is now available worldwide. With offices now in the United Kingdom and the Middle East, CSI:360 camera equipment, crime scene reconstruction software and training / support services are now closer to our valued customers.

Learning Curve: About 1 hr and 20 minutes
CSI:360 takes less than 2 hours to learn. This includes learning how to take the 360 X 360 panoramic shots, stitch them, and upload them to your CSI:360 cloud account. Point, click, drag and save. Your crime scene has hot spots, crime scene notes, yellow digital evidence markers and floating maps and floor plans. The District Attorney's office will think your detectives "walk on water."

100% Secure Option Available
CSI:360 can be used with a managed service level solution with our Rackspace.com hosting partner. Or, you can order CSI:360 server edition and host it at your own facility.